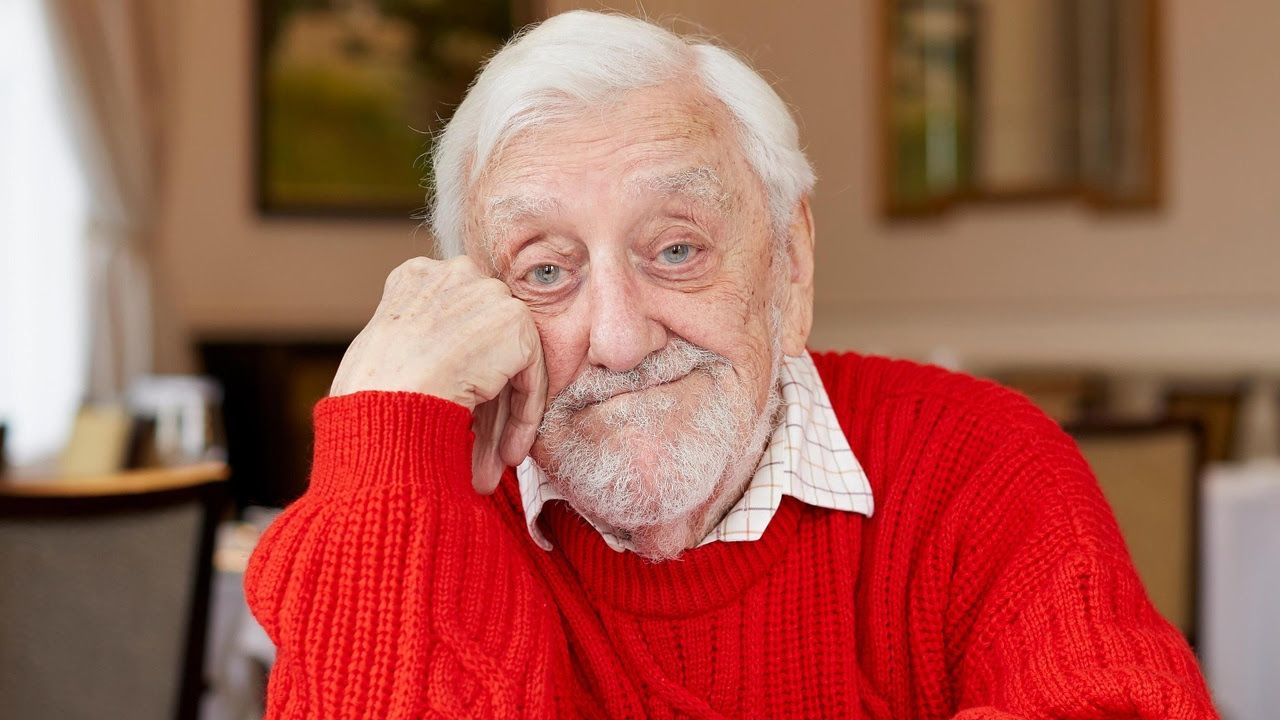 Yesterday was our 21st wedding anniversary and so we celebrated with a few drinks. It's important to show that you care about the most important people in your life.
Charlotte enjoyed glasses of fizz with a group of girlfriends at an upmarket pub in Reigate while I sunk half a bottle of Crozes Hermitage with a homemade pizza, watching the new Spiderman film on NOW TV. On my own.
We both had a cracking night!
When you've been married for twenty one years you get to know certain things about each other. For example Charlotte's grip on the names of famous people is notoriously loose.
This can present some amusing situations like when I asked if she wanted to go to a Hans Zimmer concert and she replied "Maybe. He's that guy from Star Wars right?"
And That's That
Anyway, as well as our anniversary, yesterday was also the day the world lost Bernard Cribbins. Another part of my childhood gone for good.
For a certain period Cribbins was everywhere. He was a permanent fixture; the very fabric of light entertainment and 1970s kids TV. Anything he appeared in was a "televisual feast".
He recorded music too and actually had two top ten records, The Hole In The Ground and the imperious Right Said Fred both of which you'll probably recognise.
But I bet you haven't heard Gossip Calypso. It's as mad as a box of frogs and has a more than slightly dated approach to gender equality but do give it a spin.
Cribbins was a versatile actor, appearing in straight dramas and live theatre as well as loads of comedy roles in things like The Plank and a good few Carry On films.
But really he was best known for kids entertainment. He was the face of Jackanory and the voice of both the Wombles and the Tufty Club.
He was kindly Perks, the station porter in The Railway Children, and in later years he played an avuncular grandfather in the Doctor Who reboot.
If you are my age it is a virtual impossibility to not know who Bernard Cribbins is.
So of course when I told my wife that he'd passed away she looked at me quizzically and said "Remind me where I'd know him from."
Money, It's A Gas
The best occasion, however, was the time she told me that the Oracle of Omaha, legendary investor and occasional world's richest man, Warren Buffett, had popped into her workplace for a short visit.
As the world's most successful investor Buffett has a net worth of 98 billion dollars. He lives in Omaha in the same house that he bought in 1958 for $31,500, avoids travel, especially to Wall Street, and subsists on a steady diet of McDonalds and Cherry Coca Cola.
I was really surprised when during an evening meal my wife told me she'd seen him.
"I meant to tell you," she said, "he came to our school today. I thought you'd be interested."
"I'm very interested. Are you sure it was him though?"
"Yeah, definitely. I met him myself. He was lovely."
"Okaaaaay. Warren Buffett?
"Yes."
"The Warren Buffett?
"Yes!"
"You're really sure. Do you know what he looks like?"
"Yes, he's very recognisable."
Warren Buffett is very recognisable. He is 91 years old and he looks like a 91 year old man. He is also of average height, which is important, as will become clear.
I wasn't convinced the world's greatest investor had really popped into my wife's primary school in Reigate. But she was.
"It was definitely him. I recognised him. No doubt at all."
"I have some doubts. Where've you seen him from?"
"It was definitely him. He was in Star Wars right?"
"Star Wars?!"
"Yes, because of his height."
"What?!"
"He played an ewok."
Little By Little
It turns out local celebrity Warwick Davis had made a visit to my wife's school. And Warwick Davis, at 3 feet 6 inches tall, really was an ewok in Star Wars. And is indeed a lovely guy.
But he's a lot younger and shorter than Warren Buffett. And much less American. I'm guessing his net worth is of a lesser stature too.
It's still one of my best conversations I've ever had and makes me laugh every time I think of it.
It also reminds me of how awesome my wife is. It might seem as though I'm telling this story against her but I'm not. Honestly I'm not.
She's really not great at remembering celebrity names and faces. Obviously. But what she is fantastic at is remembering important personal details of people who are actually in our lives.
You know, people who actually matter. People who make a tangible difference in our day to day world.
I'm pretty good at soaking up details of rock and roll musicians. I can tell you a few good tales about Keith Moon or Noel Gallagher but I'm afraid I might not remember the name of your spouse.
But Charlotte would. And that's more important and a skill worth learning and improving.
Do You Remember The First Time?
She's no good at remembering sports stars and film actors and famous musicians but she'll sure as hell remember the subjects our niece is studying for A level.
Or what foods our friends can't eat.
Or how long Tom and Barbara have been together and how they met and where they were and what they were doing.
She focuses on the small important details of real people in real situations. Stuff that's much more important than knowing the difference between George Lucas and Matt Lucas.
Listening carefully to people and remembering personal details about their lives makes people feel valued. It allows people to know that they are important.
Care About The Most Important People In Your Life
So this week's Top Tip is to be more like my wife. Pay attention to the people in your life who matter. Give them your real attention and focus on the details that they are sharing.
Make an effort to remember those details. Because those are the details that matter, not the antics of showbiz slebs who you're never going to meet and have no bearing on any part of your entire existence.
Enjoy spending time this weekend, considering how many small details you know about the contestants on Love Island (or whatever your TV poison happens to be). Contrast that with the important details you know, or perhaps should know, about your family, neighbours, colleagues or friends.
Stay connected with news and updates!
Join Iain's mailing list to receive the latest Top Tips every Friday. As a subscriber you'll always be the first to read it, BEFORE it makes it to the blog. Plus you'll get the latest news and offers.
Iain hates SPAM. He will never sell your information, for any reason.